was never a fan
so didn't know much of Shakira
till I came across the FIFA World Cup Song
(and got pulled back to watching a fairly dull tournament 🙁 so far).
I read,
she will be appearing in Glastonbury this year.
ho hum, I said,
thanks for the information.
then I read about her charity work.
I sat up for a second read.


she founded it
in 1997 when only 18 years old.
Pies Descalzos, or Barefoot, has a double significance;
it is the name of the record that made Shakira's music internationally known
and it also recognizes the thousands of children living in such poverty that they cannot even afford shoes.
The Barefoot Foundation works to ensure that every Colombian child can exercise their right to a quality education.
I find honesty in her generosity
how can I not become
a fan?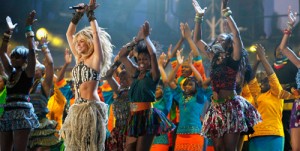 " … You paved the way, believe it"