Backwhen in Calcutta during my college days, I happened to be in a band.
We were a humble three guitars and a drummer ensemble and a singer;
we went by the name of The Doc'Yard.
We broke many college norms to delve into western music;
when it was considered bad culture by the traditional puritans.
Singing and playing the usual Beatles hits
with a sprinkling of the Dead, Stones and many others;
before turning our hands at writing some of our own music.
I was happy drumming for the initial months and many a few gigs,
but then turned to playing the lead guitar to fill a void.
It was a time when I, as a college student, didn't have much money to splash around.
I had a worse for wear Rs 100 ($10) guitar; a locally made solitary pickup job,
I had it rejuvenated by the professionals with a brand new pickup
and fresh lick of cream paint and a black fingerboard,
I was ready.
But my money had run out.
I needed an amplifier. I had to settle for a borrowed little contraption of unknown origin.
It sported four chunky valves, but the sound it produced at its loudest
could only be described as
'underdriven'.
Like Mr Knopfler's "George", I knew all them fancy chords,
but unlike him, I also wanted to make my guitar cry and sing.
Undaunted, I spent hours trying to get the sounds of my guitar heroes; the likes of
George Harrison, Mark Knopfler, David Gilmour and Eric Clapton.
I had no pedals, no fancy knobs, no whammy bars.
I turned my fingertips raw till they almost bled,
bending the strings to get them to sing and cry.
I did try,
it was hard work, the strings were stiff and stubborn
and the amplifier refused to cry; it would only sing its own tune.
A day came when I completed my final exams and moved onto
a different phase of my life. Career and job took a priority,
and sadly, after five years, it was time to hang up my trusted guitar.
Now, after many years
and thousands of miles away from where I started,
I can indulge in my purchases; I am now a proud owner of a
Music Man 112 RP Sixty-Five.
Now I can sit and bend the strings
and hear my guitar crying and singing
so easily, so effortlessly, getting the sounds of the guitar legends of backwhen.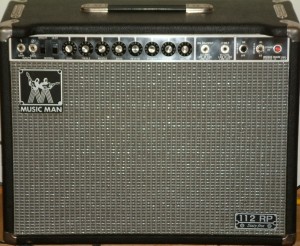 Today, I got out the cleaning rags and set about to dust its inner
and in the process I found, by the numbers on its parts,
this amplifier had been assembled in November 1979.
I am just sitting and thinking;
Wow!
when I was tearing my fingertips out for the want of a good amplifier,
little did I know, that by then, an amplifier had been designed by Mr Leo Fender
and already built by technicians somewhere in Anaheim, California
that would one day heal my finger tips.